AIS Designs, Headed by Ar. Shagufta Rao, a Mumbai Based Architectural and Interior firm incorporated in 2013 is increasingly engaged in creating visually appealing structural designs that not only captures their passion for architect but the soul of their client. Since its inception, AIS designs has worked on various luxurious residential condominiums, Premium towers, Institutions and Corporate buildings. The firm has done it all from low cost housing schemes to High end private Bungalows. On the interior front AIS Designs has catered to many High End Residential Interiors, Bungalow Interiors, Penthouses and Commercial interiors.
The firm takes pride in its unique design concepts with the creative approach towards sustainable design that helps us consistently achieve the highest standards. Our objective is to efficiently maximise the commercial potential of any project keeping in mind the need of the clients. To achieve excellence in design and provide comprehensive aesthetic solution, we have a team of dedicated and talented architects and interior designers.
AIS Designs has successfully designed and crafted over 20 projects in a period of 4 years. Our clientele bears testimony to our commitment to provide an architectural unique design connected to the nature and Interiors which makes the optimum utilisation of space, light and landscape to transform spaces into an inspiration of modern day lifestyle.
---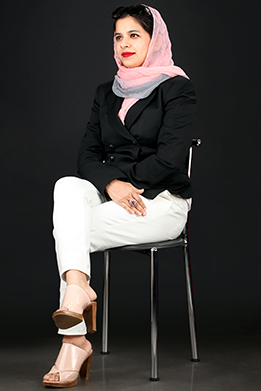 Ar. Shagufta Rao
Ar. Shagufta Rao, the dynamic and meticulous architect began her journey at a very early stage in her life. She was determined to be an architect since her school days. This natural conviction towards architecture came as a gift and she went on to get her degree in Architecture from Rachana Sansad's Academy of Architecture.
Her focus, perseverance and the love for architecture got her an opportunity to work with the best, none other than Ar. Hafeez Contractor. The experience at AHC was enlightening and had laid a strong foundation for the Architect to start her own practice someday. She was part of the Team that commissioned some of the finest projects like Delhi Public School, Housing scheme in Navi-Mumbai, Crompton Greaves which got her recognised internationally. She landed up at P&T Group, Thailand, the award-winning, global design firm ranked amongst the top 10 architecture firms in the world. She was spear heading the architectural projects at P&T Group and was recognised and appreciated for Shanghai Pudong Olympic Centre, Lumpini Hotel and Sansiri Housing schemes to name a few.
Through this wonderful professional journey there came a point in the career where the entrepreneur within had a calling and the architect started her own Practice in 2013, AIS DESIGNS, once of the most exhilarating journey till date.